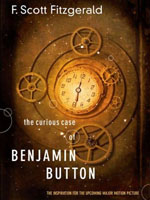 I sat down last night to spend a half-hour with F. Scott Fitzgerald's short story "The Curious Case of Benjamin Button."  It's been ages since I first gave the story a look and I don't even think I ever read it throughout until yesterday, but the measured simplicity of it all was striking.
I don't count myself one of Fitzgerald's followers.  I don't find myself attuned with whatever it is that makes legions of readers consider "The Great Gatsby" to be the greatest American novel, for instance.  I typically find myself leaning toward Hemingway's brand of the mundane instead, but that's neither here nor there.
The structure of "Button" is what stuck out to me.  The strange sort of insight into the stages of one's life and how Fitzgerald flipped those notions on its ear is incredibly effective.  By the last page, I had that knotted feeling in my stomach, the kind you get after you know you just experienced something that is much more than yourself.  The truth apparent in the final moments, the skewed vision of a life at its end, it was almost too much.
And I imagine Eric Roth's adaptation is just as in tune with these notions, albeit in an expanded (well…greatly expanded) format.
Additionally, the trailer for the film seemed to carry across a similar structure that stuck out to me the moment I saw.  I didn't know how to address it at the time but reading the original work last night hammered it home.
All things considered, I think "The Curious Case of Benjamin Button" might be my most anticipated film of the upcoming Oscar season.  It seems the easy choice, the obvious one.  No one can argue with the apparent artistry on display from what we've seen so far and I find myself watering at the mouth the more I consider its potential.
I also find myself thankful that a guy as savy and complex as Roth is the one to take the story to adapt the tale for the screen.  Of course he would.
Roth's screenplay wil be reviewed here at "Page to Screen" on Tuesday, August 25.