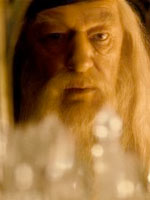 I received the press release regarding Warner Bros. pushing "Harry Potter and the Half-Blood Prince" to 2009 earlier today when I was out and about. And frankly, four hours later, it had already slipped my mind.
So what does this mean in the awards landscape? I'm not sure, since WB isn't one of the awards-obsessive studios that makes decisions based only on "the season."
Maybe the movie is crap and needs some work. Maybe the studio smells blood after "The Dark Knight" and feels that "Terminator Salvation" isn't enough of an ace in the hole next summer. I don't know. But the wizard's out of the derby now and that frees up some budget dollars for "Knight" and "Body of Lies."
That's all I'm saying…
Anyway, bravo to Steve Kloves for whoring it out on seven straight projects after an artistic showcase like "Wonder Boys." The checks must be substantial. And his cut-and-paste function must be wearing out by now.