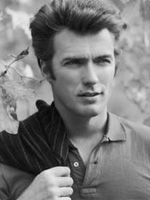 These must be hard times for anyone who doesn't like Clint Eastwood, and I realise that we at In Contention aren't doing much to reduce the saturation. But with two pictures coming up in the space of four months, and a massive retrospective at the BFI Southbank (formerly the National Film Theatre, for those of you who haven't been in London recently), he is – again – the man of the moment.
To tie in with the retrospective, the UK press has been awash with Eastwood coverage, but this piece in last week's Independent was only just brought to my attention, and rather nice it is too. It's more in line with the idolising tone of Sight and Sound's recent profile than Alex Cox's hastily executed contrarian view in the New Statesman (a missed opportunity, to say the least). Writer James Mottram doesn't really have anything new to add, but in true Independent fashion, it's considered and thorough, with a nice sprinkling of typically pithy Clint quotes. This one in particular raised a smile:
Now he is 12 years into his second marriage, to former journalist Dina Ruiz, some 35 years his junior. And with seven children by five different women, it's no surprise that he says: "I still feel film-making is the second most fun thing to do."
Elsewhere, it's nice to see Mottram giving due appreciation to Eastwood's earlier directorial feats, a phase that tends to get slighted in his career overviews. In particular, he singles out the film that I think might be the second-greatest of his career:
To dismiss his earlier work as director is to forget his diversity. While there were misfires, like the Cold War thriller Firefox, these were far outweighed by the successes, like 1976's elegiac Western The Outlaw Josey Wales. Always delivering films under budget, he was given the freedom by Warners to surprise us, such as with his gentle road movies, Bronco Billy and Honkytonk Man.
Good catch. I must say I've never squared with the oft-repeated view that Eastwood keeps improving as a director (insert "fine wine" metaphor here), largely because he was pretty hot stuff to start with. I keep saying it, but "Play Misty for Me" is one hell of a debut. (Anyway, if that theory was true, that would imply that he's made a better film than "Unforgiven" in the past sixteen years. You won't convince me of that.)
I must say I'm puzzled by the timing of the BFI review – if they'd held off a month or two, they could have sneaked in a premiere of "Changeling," at least. Still, why quibble – I'm off tonight to watch "The Good, The Bad and The Ugly" in the comfort and beauty of London's finest cinema. Thank God for the BFI.