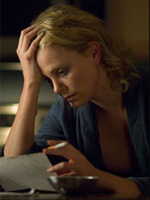 As I mentioned in my Venice preview, "The Burning Plain," the directorial debut from screenwriter extraordinaire Guillermo Arriaga, is one of my most anticipated titles of the year. Now a new series of images from the film has been revealed – check them out here.
Not much to be gleaned from them that you hadn't suspected already – it's clearly an intimate piece focusing on actors rather than visual fireworks, and Charlize Theron is in dressed-down (but still beautiful) mode. The synopsis provided indicate that Arriaga is playing typically complex structural games:
"The Burning Plain" weaves together two storylines taking place in the past and present. Kim Basinger will play Gina, the mother of Charlize Theron's character as seen in childhood. Theron will play Sylvia, who tries to find common ground with her parents after a turbulent childhood. The two narratives eventually converge.
So far, so good. Meanwhile, the announcement that the film will also play at Toronto only emphasises that this is one to watch. Arriaga has yet to misfire in my view – incidentally, his novel, "The Night Buffalo," is excellent too.
We all know by now how great an actress Theron can be when she connects with her material, and Basinger, rather like her ex-husband, is a more interesting character player than she ever was a star. (I've squeezed the former actress into my list of predictions – you can take a look at them here.) Here's hoping the momentum keeps building.