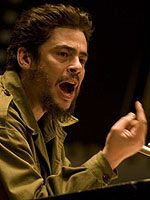 John hasn't addressed this yet, so I'll put it out there…
Variety's Anne Thompson is reporting on 20 new films added to the line-up of this year's Toronto International Film Festival. Following suit with yesterday's New York fest news, Darren Aronofsky's "The Wrestler" and Steven Soderbergh's "Che" (listed as "Part One" and "Part Two" for Toronto) will make the trip up north.
Other special presentations of note include Rian Johnson's "The Brothers Bloom," Richard Linklater's "Me and Orson Welles," Danny Boyle's "Slumdog Millionaire," Kevin Smith's controversial "Zack and Miri Make a Porno," Guillermo Arriaga's "The Burning Plain" (could be Oscar bait for actress Charlize Theron), Charlie Kaufman's "Synecdoche, New York" and Marc Abraham's "Flash of Genius" (which could be an awards vehicle for Greg Kinnear).
The big news, however, seems to be that Clint Eastwood's "Changeling" will not be heading to the fest. Here's Thompson on that front:
Clint Eastwood's Cannes Fest entry "Changeling," which will be the centerpiece of the New York Film Festival, will not be at Toronto because there was uncertainty about new mother Angelina Jolie's availability to participate in a gala premiere. "We would have loved to have had Clint Eastwood," said Bailey, "but the only way to present the movie in a big way was as a gala with Eastwood and Jolie."
Basically, the Toronto crew can't star-fuck, so they'd rather not show it. Gotcha.
Anyway, read all about the new additions here. The full line-up will be unveiled next Tuesday.