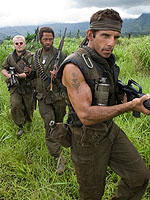 This kind of surprises me.  I don't know how long it'll stay in the 80 percentile, but I kind of thought we'd see more assessments along these lines than the review highlights Ryan Adams has cherry-picked over at Awards Daily.  But there's certainly more where that came from.
Seriously, a film like this, I'd expect an up-in-arms deconstruction from every self-important critic in the country.  The protest controversy seemed like it would be fuel for that fire, but I guess it's gone in a different direction.
Curious.
Not that I bother with the collective at Rotten Tomatoes or that I read — well — pretty much ANY critics anymore.  The art form is so stale, so lacking in the perspective it had not five years ago.  More often than not I just don't bother.
But good on 'em for finding some joy in this little farce.  It has its flaws, but it's solid and even smart here and there and I'm obviously a fan of Tom Cruise's antics, so bring on some more positive assessments.