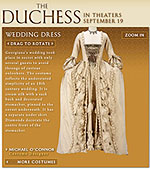 Paramount Vantage has always been a safe haven for the crafts cateogries when it comes to the Oscar season.  Each year, the Vantage Guilds website showcases the below-the-line stuff that consistently gets the short end of the coverage stick.  (We harp on this a lot around these parts).
With that in mind, the studio has launched an official website for Saul Dibb's upcoming film "The Duchess."  And as a part of the interactivity, there is a special section spotlighting Michael O'Connor's costume designs, which could be a formidable contender for the film this year if nothing else.
There's also an extremely informative section called "Discover" that could keep you busy for quite a while…if Georgiana Spencer, the Duchess of Devonshire does it for you, that is.  There's tons of stuff about "the Empress of Fashion" and plenty to indicate a strong push for the design aspects of the film.
The trailer is also included (see below), as well as the usual media bells and whistles.  Give it all a look here.  And I suppose now's as good a time as any to remind the readership that Gerard Kennedy's weekly "Tech Support" column will launch on Thursday, September 4.
httpv://www.youtube.com/watch?v=qLRoimyj9BE