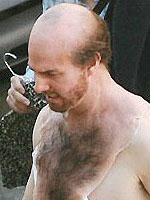 I have to say, I think Vulture is off the mark with their insistence that Tom Cruise "isn't that funny" in Ben Stiller's upcoming "Tropic Thunder." I was holding my side in laughter for much of the extended cameo, less due to Cruise's efforts than what the script called for, admittedly, but it's real yuk-yuk value.
Earlier this month I wrote:
Cruise's first moments on screen — a video conference call sequence — leads one to believe he'll be reaching throughout the performance, trying too hard to connect the dots of Stiller's absurdist comedy. But somewhere along the line, it becomes clear that Stiller knows how to best capture the performance: taking it over the top isn't nearly enough. You have to keep doing it over and over until it's funny again, and that is where the director's choice to linger on Cruise's antics provides a showcase that demands side-splitting laughter.

And bravo to Cruise for going there. It's probably the smartest thing he could do at this dicey time in his career. And when he slowly dictates his opinion of action star Tugg Speedman's career, it's difficult to imagine he wasn't thinking of himself in some small part.
I still feel pretty good about that.
Meanwhile, that New York Times story is really irritating for some reason.  Sure, Stiller's stint starring as a mentally disabled stable boy is played up for comedic value in the film, but it's dead on in its clearly hyperbolic joshing of actors who "go there" to get awards.  Bravo to the studio for sticking to its guns on this one.  You can't please everyone, nor should you strive to do so.
Anyway, I'll be looking forward to everyone else's thoughts when the film lands next weekend.