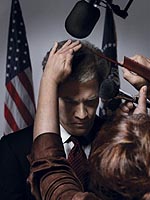 Yesterday's edition of London's Sunday Times carried a story from Christopher Goodwin analyzing the "W" phenomenon from the other side of the pond. It's full of unoriginal information, but worth a read nonetheless.
First, Goodwin gets into the obvious caveat that has a number of viewers skeptical:
Some believe Stone, 61, may even have a deep-seated personal animus against Bush. Born in the same year, he and Bush were briefly classmates at Yale, although they didn't know each other there. Stone dropped out to fight in Vietnam, a battle-scarred journey that eventually led to his radicalisation and to two Oscar-winning films born of the experience, Platoon and Born on the Fourth of July. Bush, of course, managed to avoid going to Vietnam by somehow winning a cushy noncombatant job at home with the National Guard.
Touché so far. But then Goodwin gets into a thorough dissection of Stanley Weiser's script to the point that we're almost embarrassed to say we'll be covering the work in tomorrow's "Page to Screen" column. It seems everyone with a pulse has read this thing since it "leaked" out in April.
Here's the Goodwin's closer:
Stone says he's beyond caring what people think. "I'm tired of defending the accuracy of my movies," he says. "JFK was a case to be proven, Nixon was a penetrating biography of a complex and dark man. But I'm not bound by those strictures any more. Bush is not a complex and dark man, so it's different. This movie can be funnier because Bush is funny. He's awkward and goofy and makes faces all the time. He's not your average president. So, let's have some fun with it. What are they going to do? Discredit me again?"

Sure, if they can.
Well, all the bases have been covered, I'd say. Nothing left to do now but SEE THE DAMNED MOVIE. But maybe that was part of the strategy from the start, leak the script, get the trailer out there, pull the band-aid off quickly so that the shock of all this silliness is out of the way by the time the thing hits multiplexes.
Still…good luck swallowing this yarn. Not that it hasn't been nearly impossible to do so in painful reality.
Read the rest of Goodwin's story here.