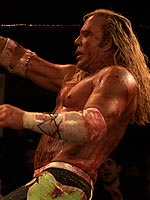 For some time I have been cautiously anticipating Darren Aronofsky's upcoming film "The Wrestler." I say cautiously because, as much as I love Aronofsky's vision of a cinematic world slightly askew, I recognize his potential for going off the rails in blind artistic rage.
I loved "The Fountain." I found it to be one of the two best films of 2006, a unique and vigorous demand for new barriers in the cinema. Some people hated, detested it, found it a waste of celluloid, but I saw a filmmaker dissatisfied with the limits of his medium and stretching to make a different kind of film entirely.
Then again, I hated "Requiem for a Dream," the film largely agreed upon as a testament to his considerable talents. I found it to be an embarassing display, the sophomore slump from a director clearly going places.
And of course, in "Pi," I think many would agree that the seeds of expertise were sewn, the potential glaringly apparent.
And now we get "The Wrestler," which will bow at the 65th annual Venice Film Festival later this month. The film stars Mickey Rourke as a professional wrestler "making his way through the independent circuit, trying to get back in the game for one final showdown with his former rival," according to IMDb. And for some reason, it sounds like a story with a lot of potential, to say nothing of what an actor as gifted as Mickey Rourke could do with a role such as this.
Rourke has been in the midst of a downward spiral ever since the days of "Harley Davidson and the Marlboro Man." He plundered the potential we all saw in films such as "Diner" and "Rumble Fish" on the way to becoming a self-parody. Even his often-praised performance in Robert Rodriguez' "Sin City" was something of a cop-out, a reliance on the short-talking, hard boiled persona he had grown into over the course of a decade or more.
But we all still liked it, of course. Just as we (well, some of us) enjoyed his chihuahua-toting tough guy in "Once Upon a Time in Mexico." But he's got something else in him, something great, and I have a feeling "The Wrestler" might scratch that surface.
With that in mind, /Film has posted some new photos of Rourke from the upcoming film, which co-stars Evan Rachel Wood and Marisa Tomei. I love the look they've assembled for Rourke's wrestler, a sort of mish-mash of Diamond Dallas Page and Fabulous Freebird Michael P.A. Hayes (yes…I used to be a big pro wrestling fan). There might even be some Shawn Michaels thrown in for good measure.
The film hasn't secured domestic distribution yet, but perhaps it'll turn enough heads in Venice in a few weeks to do just that. Regardless, I'm really looking forward to what Aronofsky, and Rourke, have in store for us here.