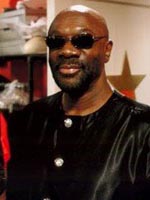 Perhaps I missed this little tid-bit in the sad news over the weekend, but apparently Bernie Mac and Isaac Hayes are staring alongside Samuel L. Jackson in November's "Soul Men."  I TOTALLY didn't realize that.
We get this from the New York Daily News (via The Movie Blog):
Is "Soul Men" cursed?

The upcoming comedy, set to be released in November, features both comedian Bernie Mac and singer Isaac Hayes, who died within one day of each other this weekend. And eerily enough, the movie's plot is about death.

In "Soul Men," a rhythm-and-blues band reunites 20 years after their acrimonious breakup following the death of the band's lead singer. Samuel L. Jackson and Bernie Mac play the group's two main members, while Isaac Hayes portrays himself.

The movie's plot, with battling egos, appears to resemble the relationship between real-life singers Sam Moore and Dave Prater. The movie's title comes from "Soul Man," one of the hit songs Hayes co-wrote for Sam and Dave.
It honestly sounds like an interesting little project.  No doubt it'll be doubly sad watching these two on the screen together.