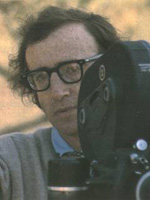 He may be the finest American screenwriter of the last 40 years, having redefined the romantic comedy, explored relationships with a biting audacity and authenticity, provided women with marvelous roles,  and like all great writers, exposed a portion of his soul on screen.
Now in his 70s, Woody Allen seems poised to once again become an important and vital American director after more than a decade of weak efforts that seemed to signal his decline. His new film, "Vicky Cristina Barcelona" (reviewed by Kris here) is superb, a return to form for a master seemingly charged with renewed energy and vigor.  The film is funny, robust, and with an under-current of danger and nastiness that gives it an edge his previous work, "Match Point" excepted,  simply did not have.
It was with "Annie Hall" that Allen broke through as a major filmmaker, winning the Academy Awards for Best Director, Best Screenplay and Best Picture.  Another award came for actress Diane Keaton, while Woody himself was nominated for Best Actor. It was a case of the hard core New York artist being embraced by the Hollywood community he so despised.
A ground-breaking romantic comedy,  "Annie Hall" took the tried and true "boy meets girl, boy loses girl, boy gets girl back" and created a fourth rule, being "boy loses girl forever," pumping authenticity into the genre, reality, a reflective slice of life.
In the immediate years that followed Allen directed and wrote his tribute to Ingmar Bergman, "Interiors," and then gave us "Manhattan," which many consider to be his masterpiece.  It was a breathtaking valentine to New York City, a superbly written and directed love story, with remarkable performances from the cast.
Audiences and critics pounced on "Stardust Memories," which at the time of its release was the most daring and personal film of his career.  He had a few more expermental efforts up his sleeve before giving us the lovely "Hannah and Her Sisters," which won Allen a slew of critics awards and was nominated for seven Academy Awards.  It took home three Oscars, including another for the writer/director for his screenplay.
Allen ran hot and cold with audiences and critics after that: hot with "Crimes and Misdemeanors," one of his darkest works, cold with "September," hot again with the revealing "Husbands and Wives" and the brilliant "Bullets Over Broadway" (one of his best) and cold yet again with "Celebrity."  But often even his weaker films were stronger than most pictures out there.
The last ten years have not been kind to him, other than the attention that Oscar afforded 1999's "Sweet and Lowdown".
"Small Time Crooks," was a mess, "The Curse of the Jade Scorpion" bordered on being embarrassing, "Hollywood Ending" was all over the map, "Anything Else" was woefully miscast, as was "Melinda and Melinda," leading us to "Match Point," a superb thriller that stunned critics who could not quite believe it to be a Woody Allen picture.
It seemed that shooting away from his precious New York had liberated him, freed up his creative juices and got them flowing again.  He made a film that was, if nothing else, a reminder of his substantial gifts.
Neither "Scoop" nor "Cassandra's Dream" possessed the strengths of "Match Point," but his latest picture, "Vicky Cristina Barcelona," is one of the director's very best works, among the year's best films thus far.
Never before has Penélope Cruz been more bewitching or dangerous on screen, stealing the film with a performance that is sure to be nominated for Best Supporting Actress.  And Javier Bardem, after winning the Oscar for his remorseless hitman in "No Country for Old Men," is delightful as a divorced playboy who fears one thing…his ex-wife (portyrayed by Cruz).
The picture reminded me of why I love Woody Allen's films. It dares to be different. At 72, he is still evolving as an artist, still able to write outstanding scripts and can even guide actors to their best work.  He is a genius and more and more I find myself looking forward to celebrating his return to greatness with a Woody Allen festival in my home this weekend.
NOTE: To the many who stay in touch with kind thoughts and words about my wife, an update. We met with the surgeons who have told us the best they could do was take out less than half of the tumor. The cancer appears to be very aggressive, and though she has gone through 28 days of radiation they want to start chemotherapy soon. It has been said that the best we can hope for is three-to-five years, but of course we do not agree nor believe that. I cannot imagine Sherri not by my side on this journey we call life — I cannot remember a time when she was not a part of my life, and she has always championed my work as a critic and writer. We are in this together and I will fight alongside her for as long as she has the strength to do so and wants to do so.  If I were a cancer cell, unwelcomed in her body…I'd be afraid…very afraid.