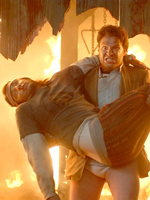 In my review of "Pineapple Express" yesterday, I mad it a point of mentioning director David Gordon Green's salute to the greatest (or worst) of 1980s action cinema.  At the time I wrote:
Green's obvious devotion to the action epics of the 1980s that his generation grew up on makes its way to the surface more than a few times (I swear I've seen that knife toss before…can't place it). He makes no bones about an affinity for Steven Seagal and lord knows he found a proper outlet to show his respect for what I like to call the "Steven E. de Souza subgenre" of actioners. But to mix it in with a pothead extravaganza…absolute genius.
And today, it looks like the ever-insightful writers of New York Magazine's Vulture blog have taken it a step farther, asking with the utmost sincerity, "Who's the better action director: David Gordon Green or Christopher Nolan?"
Take a look:
Obviously Green is no John Woo, but the [finale] is lucid, well paced, and nowhere near as stupid-looking as one might reasonably anticipate, especially considering that it includes shots of Rogen firing an automatic weapon. There are explosions, bleeding injuries, and some passably impressive stunt work, not bad for a freakin' Judd Apatow movie.
They then go on to point out the problems with Nolan's handling of action sequences in "The Dark Knight" that have been mentioned in a number of mixed or negative reviews of the film.  "Sure, the action in Nolan's film is more ambitious," they write, "but the fact that Green's is infinitely more coherent and suspenseful is…well, sort of funny, right?"
Gotta love those caljones.  And it's not exactly an out-of-bounds observation.  Read the full post here.