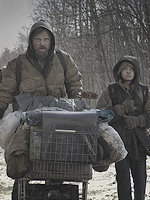 Our friends at Cinematical point us this morning to six new images from John Hillcoat's "The Road," debuting over at USA Today with a nice accompanying story from Scott Bowles.
I didn't realize Hillcoat was filming this in Pittsburgh, probably one of my favorite sleepy cities in the entire country.  Bowles quotes the director as follows:
It's a beautiful place in fall with the colors changing…But in winter, it can be very bleak. There are city blocks that are abandoned. The woods can be brutal. We didn't want to go the CGI world.  We wanted the heightened reality in the book.
Very cool.  Star Viggo Mortensen is also quoted.  You can read the rest here.
I'm currently thumbing my way through Cormac McCarthy's book.  I've told a few friends who loved that it hasn't exactly blown my skirt up yet, though more often than not the answer is, "Finish it and we'll talk."  Fair enough.  I do love the atmosphere McCarthy creates, more so than any of his other works.
Dimension Films will be releasing "The Road" on November 11.  The film will have its North American debut at the Toronto Film Festival on Steptember 11.