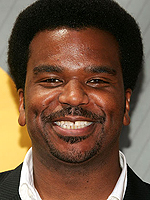 One of our readers reminded me in the comments section of yesterday's review of "Pineapple Express" that I failed to spotlight one of my favorite performances in the entire film, and a character actor who has quickly become one of the best go-to guys for comedic value.
Craig Robinson is probably most often associated with his Darryl Philbin stockroom character in television's "The Office."  His matter-of-fact attitude and cadence go a long way whenever his character is utilized and never fails to make me smile.  But he's also begun making quite a mark on the big screen as of late.
It reall started with Judd Apatow's "Knocked Up," in which Robinson stars as a steadfast but introspective nightclub security guard.  You'll recall the laugh-out-loud dialogue that Robinson handled so perfectly:
I know… you're right. I'm so sorry, I fuckin' hate this job. I don't want to be the one to pass judgement, decide who gets in. Shit makes me sick to my stomach, I get the runs from the stress. It's not cause you're not hot, I would love to tap that ass. I would tear that ass up. I can't let you in cause you're old as fuck. For this club, you know, not for the earth.  You old, she pregnant. Can't have a bunch of old pregnant bitches running around. That's crazy, I'm only allowed to let in five percent black people. He said that, that means if there's 25 people here I get to let in one and a quarter black people. So I gotta hope there's a midget in the crowd.
Absolutely brilliant.
Robinson also starred in the Apatow-produced "Walk Hard: The Dewey Cox Story," but I can't comment on the performance because I ejected that piece of shit ten minutes into it.  HOWEVER, I'm sure he was a diamond in the rough.
Well in "Pineapple Express," Robinson hits consistent high marks as Matheson, one of Gary Cole's two henchman hunting down Seth Rogen and James Franco's bumbling stoners.  As usual, he holds court on the screen with specific and hilarious line readings.  His exit from the film is one of the funniest scenes of the piece and he plays it up for all it's worth.
I'm frankly ashamed that I didn't mention this cat in the review.  So I felt compelled to dedicate a post to what I hope is a prolific new comedic talent.
Robinson has a number of films on the horizon, including Kevin Smith's controversial "Zack and Miri Make a Porno," and as one might expect, the roles all seem to be supporting ones.  But I'd like to say it now and say it proud: give this guy his own stage!  Robinson needs his own show, his own starring role, SOMETHING!
Heck, I'm tempted to write something for him right now, dust off the screenwriting software and be inspired because he's going places.  He can't just wither away just outside the spotklight, he has to shine, and someone, somewhere, better be of the same mind or it'll be our loss.