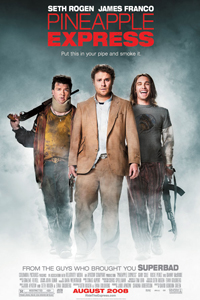 The dust will settle on a record-breaking summer movie season and much will be made of super heroes and unexpected, makeup-infested comedic portrayals. But an unassuming stoner comedy that breaks free of the mold and becomes something akin to sheer film-going bliss will be one of the few left standing.
A truly side-splitting yarn that takes its lead from Cheech and Chong and the greatest (or worst) of 1980s action and comedy standards, the film carves its own spot as a new staple. And going into an Oscar season that looks a bit shallow from afar, "Pineapple Express" seems to be the best film 2008 has had to offer so far.
Hell of a thing.
Fresh, authentic, appreciative of its lineage and rife with absolute truths of the stoner way, this one was always guaranteed to leave your gut cramped from unyielding laughter. At the center, however, is a strange thread of realism that is incredibly intriguing. No matter the level of absurdity this sequence or that may reach, on some level, one can't shake the sense that if these things were going to happen…this is exactly how it would go down.
It's an odd characteristic that I don't believe I've ever seen out of a film such as this, and all the credit in the world seems to belong to filmmaker David Gordon Green. After making his way in the indie sector on his own terms, his marriage to this material becomes the most natural fit to date.
The plot is simple as pie: Dale Denton (Seth Rogen), a cheeba-loving subpoena server with a high school girlfriend, witnesses a cop and a high level drug dealer (Ted Jones — played by the silky smooth Gary Cole) off an Asian competitor one night. Ditching a roach and high-tailing it to his dealer, Saul Silver's (James Franco) house, the duo find themselves in a hell of a pickle.
Silver is one of the only dealers in town that has a supply of the newest, rarest bud known to man: Pineapple Express. Jones will surely track them down and gladly bust a cap in their ass if he stumbles onto the roach (which, of course, he does), so it's shades of "The Defiant Ones" as Dale and Saul get the heck out of dodge.
They eventually make their way to Red (Danny McBride), Saul's supplier who Jones and his thugs have roughed up in the hopes of locating the two bumbling tokers. Red is a character and half for McBride (also seen in glorious hilarity this year in "The Foot-Fist Way" and "Tropic Thunder") to sink his teeth into.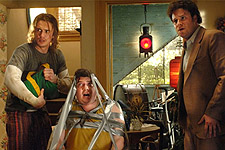 And when a Royal Rumble of epic proportions breaks out between the three, it quickly becomes one of the greatest fight scenes of all time.
The film continues the cat-and-mouse thing for the duration, filling the gaps with wonderfully creative car chase sequences, plenty of cannabis consumption to carry the point across and Ed Begley Jr.'s finest moments on screen since — well probably ever.
The ensemble is expertly cast, with the expected standout being James Franco. Saul has become the Jeff Spicoli of a new generation, and probably bested him for outright lived-in stoner hilarity. (There were even times when I thought a Sean Penn cameo was in order.) The performance is nothing like what fans of the actor have seen so far and as a former devotee who's been slowly drifting away, this viewer is right back in there for an actor who's clearly going places.
Rosie Perez and the aforementioned Ed Begely Jr. make for perma-smile-inducing secondary characters, while "Saturday Night Live"'s Bill Hader gets to be the guy who settles the audience into their continued state of laughter as the punchline of an opening sequence unrelenting in its…screw it…awesomeness.
"Pineapple Express" is the best piece of work Judd Apatow has ever had his name associated with, but that isn't saying a whole lot, of course. However, if David Gordon Green is the answer he and the writing duo of Rogen and Evan Goldberg have been looking for, they should sit up and take note.
"Superbad," for all its charms, wasn't working on nearly the same levels as. Perhaps filmmaker Greg Mottola couldn't siphon the right amount of humor that didn't wallow in the toilet, one can't be sure. But Green puts on a how-to session any comedic director would be lucky to observe.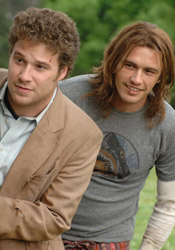 Where Rogen and Goldberg's script runs off the rails in moments that would have inevitably found more than its fair share of guffaws anyway, Green keeps a steady hand, finds levels of truth and reality and boils situations to an impenetrable essence that elevates the comedy ten-fold.
Yes, the man who staked a claim on the mundane mumblings of children and the love-struck in films like "George Washington" and "All the Real Girls" has applied those sensibilities to a niche genre that roots itself in same.
And it works! It works so well it's a shame Terrence Malick never tried his hand at "Up in Smoke." The pieces slide into place and find a cohesive fit that couldn't have been more unexpected.
What's more, Green's obvious devotion to the action epics of the 1980s that his generation grew up on makes its way to the surface more than a few times (I swear I've seen that knife toss before…can't place it). He makes no bones about an affinity for Steven Seagal and lord knows he found a proper outlet to show his respect for what I like to call the "Steven E. de Souza subgenre" of actioners. But to mix it in with a pothead extravaganza…absolute genius.
Personally speaking, despite plenty of passable and entertaining experiences in cinemas this year, 2008 has been relatively low-lying on quality endeavors. It hasn't approached the dog days of 2005 by any stretch, but a definite sense of want has settled in. "Pineapple Express" power-washes all that grime away with a spiffy dedication to outright pleasure.
What a home run.