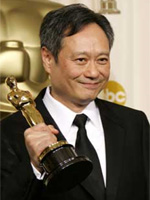 Here's what I love about Ang Lee: there is simply no way of anticipating what his next project is going to be. So far, the decade has seen him bounce from "Crouching Tiger, Hidden Dragon" to "Hulk" to "Brokeback Mountain" to "Lust, Caution" – a group arguably linked by thematic concerns of outsider identity, but with precious little in common besides. If there's a more adventurous filmmaker at work these days, I don't know his name.
Now Variety confirms that his next project sees him revisiting Nixon-era America, the period having served him well in "Brokeback" (part of it, at least) and what I believe to be his finest work, "The Ice Storm." Not that "Taking Woodstock" – Lee's third film in a row for Focus Features – sounds like anything he's done before either.
The project, which enters production this month, has been adapted by James Schamus, Lee's regular cohort, from the memoir of Elliot Tiber, a Greenwich Village interior designer who wound up in the creation of the biggest rock concert of all time when he lent his family's motel to the event organisers.
In an inspired piece of casting, Tiber will be played by "The Daily Show"'s Demetri Martin, while other members of an interesting, and evidently complex, ensemble include Imelda Staunton as Tiber's mother, Jeffrey Dean Morgan as Tiber's closeted lover, Emile Hirsch as a Vietnam vet, Paul Dano as a hippie concertgoer, Liev Schreiber as a transvestite, and Eugene Levy as Max Yasgur, the owner of the farm where it all took place.
Sounds like a suitably broad canvas for Lee to paint on – this should afford him plenty of room for a typically nuanced investigation of class, sexuality and popular culture, while offering him another completely new story world to explore. I can't wait.