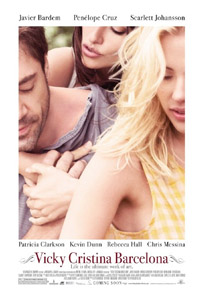 It is difficult to argue against the notion that filmmaker Woody Allen has been showing signs of tiresome decline. Successes have been few and far between for a number of years, while his recent failures pale next to the interesting missteps of his early career. His work has become, more often than not, a paint-by-numbers imitation of his former self.
The real fear that has set in for this viewer has been that his comedic gem of a mind has slowed down to the point of auto drive. But the director's latest foray across the pond,"Vicky Cristina Barcelona," quells any such notion with the revelation of a spry Allen as insightful as ever. It is sharp and witty, expertly constructed and cleverly rendered.
The film begins with the Vicky (Rebecca Hall) and Cristina (Scarlett Johansson) of the title arriving in Barcelona for a summer of graduate studies and free-spirited Bohemia, respectively. Vicky is engaged and locked in to the life she sees for herself, while Cristina is ever the romantic, a nomad of the heart, searching for love and inspiration at every turn.
After an art gallery opening the two unassuming ladies find themselves chatted up by an incredibly persuasive Juan Antonio (Javier Bardem). "We'll eat good food, drink lots of wine, make love…hopefully the three of us," he says with a confidence that will make any male feel a sudden need to take notes. A quick plane ride to the quaint Spanish burg of Oviedo is out of the question for Vicky, though Cristina is predictably swept away by Juan Antonio's charms.
The girls learn of Juan Antonio's ex-wife, Marie Elena (Penélope Cruz), and the fiery passion that seared through their relationship. Naturally, Marie Elena attempted to murder Juan Antonio in a fit of impassioned rage. She put a knife into him, to be precise. No matter the devotion, there was always an element missing in their marriage, but they remain two parts of an impenetrable kindred nonetheless. "Marie Elena always said unfulfilled love is the only romantic love," Juan Antonio says over one of many candlelit dinners.
A bout of over-intoxication one fateful night pits Juan Antonio and Vicky in each other's exclusive company for the duration of the weekend, where slowly, inevitably, Vicky's hard exterior dissolves at the hands of Juan Antonio's irresistible intrigue and…one thing leads to another.
From there Allen spins off into a yarn that becomes much more complicated and interesting than it might seem to be on the surface. "Vicky Cristina Barcelona" quickly evolves into a story about the complications of love's expectations. What we want and plan for ourselves might not — indeed, generally won't — be what is meant for us, what is best for us and, ultimately, what we truly want for ourselves.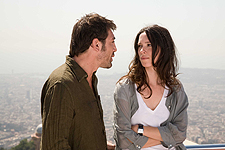 This notion extends from the familiar tale of locking oneself into an uneasy lasting bond to the foolhardy expectation that a life lived freely and open might not maintain the necessary sense of devoted connection, the spark of one-on-one companionship and the romantic rush that can all too easily be dismissed as "traditional."
The Oscar buzz out of Cannes for Penélope Cruz isn't entirely misplaced. There are certainly those who want to cling to the idea that they kick-started her prospects back in May, and that's fine. But it isn't the shoo-in you might expect. Regardless, there is definitely room to be made in a supporting actress line-up for a firecracker of a portrayal such as this.
Cruz simmers on the screen. She's like a teapot on the consistent verge of whistling with some bubbling, sultry passion. She screams and cries, badgers and torments Juan Antonio, simultaneously showing a side of loving ardor and calm devotion, all in a confident, steady package that truly deserves whatever attention may come her way in the season.
Scarlett Johansson, meanwhile, can't be held in similar esteem. She does what the role calls for but never seems to rise beyond the occasion or take things that extra mile. Her work in the incredibly flawed "Match Point" was a sample of an underlying genius that pokes through to the surface every once in a while, but the actress simply carries Cristina across in the most casual way here. Her sense of bohemian naivete is there, but never threatens to convince us like Cruz does with her devilish intensity.
Rebecca Hall, however, does the true heavy lifting of the piece. And, sadly, her work is likely to be forgotten in the rush to bestow accolades on Allen's script and Cruz's performance. Hall lives in her character perhaps more believably than any other aspect of the ensemble. She conveys Vicky's guilt and confusion as well as her dizzying jealousy over Juan Antonio's eventual relationship with Cristina in a way that wins the viewer over instantly.
Indeed, Vicky might be the element of the film to which the audience can most easily relate. A third act subplot with Patricia Clarkson's Judy character reveals the future that Hall fears so much, but cannot fathom living without. She represents our own wariness of familiarity's comforts and exudes the film's themes without dipping into cliche. It's a very tricky balance.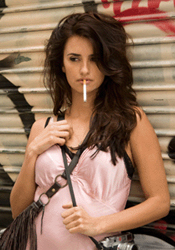 And she can't even be given space on the poster. Go figure.
And as expected, Javier Bardem makes it all look painfully simple. His work is magnetic and honest. It never spills into the territory of sleeze to which any number of actors may have fallen prey, and his matter-of-fact perspective on life and love seems to warrant detailed investigation. I'd love to see this character in another film.
The film is shot in intoxicating golden hues by Javier Aguirresarobe, but Alisa Lepselter construction of the narrative is definitely deserving of comment. Scenes cut off abruptly, time condenses on the screen and the narrative charges forward, never missing a step and rarely making for awkward transition. Her work tells the story as succinctly as Allen's words, sometimes elevating the words off the page in a way we haven't seen visually for the writer/director in quite some time.
If there were anything worth taking issue of in the film, however, it might be the abrupt nature with which the narrative abandons Juan Antonio and Marie Elena and shuffles Vicky and Cristina off to the rest of their lives. This Spaniard duo has not been some inconsequential part of their lives. Indeed, they have become an integral part of the narrative by film's end. To allow the denouement of the picture to taper in this manner seems to be a bit of a disservice to what has been painstakingly set-up throughout.
Regardless, such complaints could easily be dismissed as reflective of life's most affecting moments. Tomorrow is always just another day and retrospect inevitably reveals personal milestones to be the same. Perhaps that is what "Vicky Cristina Barcelona" is ultimately aiming for: a depiction of the mundanity of that which seemed to be, for some sliver of time, inexorably life-changing.