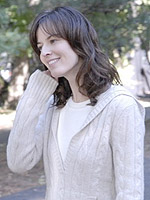 With the recent release of a spiffy new trailer and plenty of attention geared toward a potential return to form for director Jonathan Demme, the Oscar prospects of "Rachel Getting Married" have gone into hyperdrive.  In the midst of all this sight-unseen speculation, a number of eyes have been turned toward the supporting actress hopes of three-time nominee Debra Winger.
Winger popped up as a possibility in early 2003 when the eventual flop "Radio" was coming down the pike, largely because Oscarwatchers were anticipating a new dawn for the esteemed actress.  That seems to be the case with "Rachel," but the blind stabs of good intentions are ignoring the true prospect of the film, "Mad Men" star Rosemarie Dewitt.
Word on the performance is that it might have the stuff to grab a supporting nomination and that Winger isn't really in the film enough to make a real impact on the awards season.  The real angle of interest, however, is that Dewitt has an amazing story, one that I didn't even realize until recently sifting through her bio.
Turns out Dewitt is the granddaughter of Jimmie "Cinderella Man" Braddock.  Yes, that "Cinderella Man."  She even had a role in the Ron Howard film from 2005 (I missed her completely).  And of course, with "Mad Men" being the new darling on the small screen (gotta finish that first season soon), there are plenty of ways "in" to the circuit for this young lady.
So take it for what it's worth, take it with a grain of salt if you want, but it looks like Ms. Dewitt is the name to watch out for right behind sure-to-be electric Anne Hathaway in "Margot at the Wedding 2" — I mean, "Rachel Getting Married."