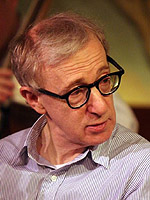 It's been a couple of weeks since we introduced a new sidebar poll — tons going on, apologies. But suffice it to say, "The Dark Knight" beat out eight other highly regarded comic book films to be the readers' choice for best all-time in the genre. No shock there, though it took more votes than I anticipated overall.
This week, with the rush to anoint Jonathan Demme a prodigal son returned following the debut of the "Rachel Getting Married" trailer, I thought it would be fun to suss out what readers think of a few filmmakers testing the awards waters with new product this season after a number of missteps in recent memory.
The aforementioned Demme is coming off of a couple of largely ignored documentaries and forgettable narrative entries such as "Beloved," "The Truth About Charlie" and, to a lesser extent, "The Manchurian Candidate."
Woody Allen, meanwhile, is stepping up to the plate with "Vicky Cristina Barcelona," a critical fave out of Cannes following years of missteps since "Sweet and Lowdown" (save for "Match Point," which had its followers).
Spike Lee hasn't exactly turned the heads of awards-giving bodies all that much for some time, though he looks to dive back into the fray with "Miracle at St. Anna," and Jim Sheridan is coming off the miscalculation of "Get Rich or Die Tryin'" with the Susanne Bier remake "Brothers."
So…tell us in the poll.  Which of these recently off-the-mark helmers has the best shot at reclaiming former glory with his resepective awards hopeful this season?