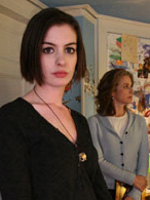 You've all surely seen the trailer for "Rachel Getting Married," Jonathan Demme's supposed return to form, by now. And while it's true that it has generally raised expectations for the film, I wonder if Nathaniel Rogers over at The Film Experience isn't getting a bit over-excited. Treating a Best Actress nomination for Anne Hathaway as a virtual fait accompli, he gloats as follows:
Long before the other Oscar sites glommed on to it, I was touting the possibility of "Rachel Getting Married" being a return to form for Jonathan Demme. As a dedicated actressexual Demme is a director I'm inordinately fond of … I had the feeling that he had another Best Actress nominee in him. Not to blow my own horn –ok ok, I'm blowing! But remember, when Hathaway is walking those carpets: I called this one first.
I don't like to rain on anyone's parade (not least since I did my own share of wafty Best Actress speculation last week), but isn't it a little early in the game to call anyone a certain nominee, particularly for a film we haven't seen yet? There are a lot of Academy heavy-hitters (Streep, Winslet, Linney, Theron, etc) waiting in the wings, and the less familiar likes of Melissa Leo and Sally Hawkins are angling for position too. The Best Actress race is actually looking rather crowded for a change – at least until we know more about some upcoming films.
I like Hathaway – and I think her appropriately chilly turn in "Brokeback Mountain" got unfairly sidelined – but I'm not wholly sold on her performance after watching a mere two minutes of entertaining put-downs and progressively more smudged eye-liner. I'm not saying she won't be terrific in the film. I'm merely suggesting that the trailer doesn't really convey the potential range of the performance to me. On another note, the Academy doesn't have much of a precedent for nominating this kind of prickly role from a younger actress – though of course that means little if she knocks it out the park.
I've seen several commenters citing superficial similarities to the widely-disliked "Margot at the Wedding" (Weddings! Sisters! Bitchiness!) as a strike against its chances, though I don't really see that as a factor – not least because "Rachel Getting Married" looks like a much cuddlier prospect. (Let me just go on the record and say that I'm a fan of "Margot," and think that Nicole Kidman was quite astonishing in it. Sorry, Kris – please don't fire me.)
On paper, however, a nomination for Debra Winger – what a relief her photo is off the milk cartons – seems right in the Academy's comfort zone. Nat and I are at least in agreement on that.