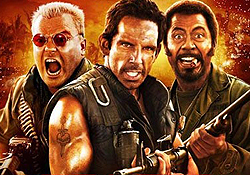 I walked into "Tropic Thunder" expecting anything from a disaster to a bona fide comedic gem.  After all, the ubiquitous Ben Stiller's work in front of the camera has evolved into a wretched sort of self-caricature, while his work behind the camera has yielded interesting failures and surprising successes with equal measure.
His latest as director is somewhere in between, an ambitious vision born out of the actor/director's consistent obsession with the hyperbole of character and cinema, and yet spread across a canvas somewhat lacking the scope it deserves.
You know the general idea of the narrative, but the real power of the comedy comes from a solid ensemble, one that doesn't necessarily work organically but certainly affords individual highlights.
I wouldn't say Robert Downey Jr. cranks out an "Oscar-level thing," but he definitely shoots for the moon as Kirk Lazarus, the ambitious and "serious" Australian actor taking on the role of a quick-talking African American infantry grunt.  Stiller thankfully manages to relegate Jack Black's antics to the periphery as the over-exposed former character actor gets the right laughs at the right times, while the director himself gets out of his own way for the most part.
The real story of the film, however, and giving the performance that will be talked about perhaps more than any other this year (save, of course, for the late Heath Ledger's work in "The Dark Knight"), is Tom Cruise in the role of film producer Les Grossman.
Cruise's first moments on screen — a video conference call sequence — leads one to believe he'll be reaching throughout the performance, trying too hard to connect the dots of Stiller's absurdist comedy.  But somewhere along the line, it becomes clear that Stiller knows how to best capture the performance: taking it over the top isn't nearly enough.  You have to keep doing it over and over until it's funny again, and that is where the director's choice to linger on Cruise's antics provides a showcase that demands side-splitting laughter.
And bravo to Cruise for going there.  It's probably the smartest thing he could do at this dicey time in his career.  And when he slowly dictates his opinion of action star Tugg Speedman's career, it's difficult to imagine he wasn't thinking of himself in some small part.