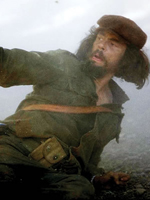 David Poland has dipped his toes into the Oscar waters of 2008 and come up with…well, the same thing we've all got at the moment, to tell you the truth.
The one point he touches on that we haven't brought up in this space yet is the notion that The Weinstein Company's "The Reader" will likely find its way to screens in 2009 rather than this year.  There's a discrepancy of preference between the studio and producer Scott Rudin, but we can guess who wins that battle at the end of the day.  Rudin has plenty to keep his 2008 attention with John Shanley's "Doubt" and Sam Mendes's "Revolutionary Road."
Here are Poland's brief asides on that:
There still could be a backdoor surprise effort, like the Weinsteins' Scott Rudin movie, The Reader… but probably not.  (The one 2009 title that screams "They could make December!" is DreamAmount's The Lovely Bones, though Par needs Benjamin Button to make a LOT of money and awards talk will help and DW's side of that mountain is pushing The Soloist hard as they exit the auditorium.)…

…The Reader also happens to be the last picture made by Mirage under Pollack and Minghella.  But, the in-control producer on board is Scott Rudin, who always has a lot of awards pictures out there and probably doesn't want this one to threaten Doubt or his beloved Revolutionary Road (which also stars Kate Winslet).  And for that matter, Rudin is probably appalled with the idea of an appeal for The Reader being made by invoking two lost Oscar-winning filmmakers… especially Pollack, for whom Rudin went well out of his way to keep the keep the press at bay as Polack dealt with his illness and efforts at recovery.
He's also got his first big list of title up as well, including some love for "W" (after that trailer?) and mentions for "The Secret Life of Bees" (the one film Fox Searchlight will be taking to Toronto) and "Che" (which will go before North American audiences at the New York fest but still is unlikely to see the light of day in 2008…unless director Steven Soderbergh suddenly decides to make a buck for an interested studio rather than perpetuate his long-ish vision of the film.
Read up on Poland's column here, and check out his chart here.
And check back Monday for our updated charts here at In Contention.