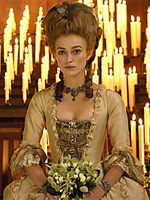 No particularly new insights to be gleaned from this, but when a Limey paper declares awards season to be officially on, you know it's here.
Guardian writer Jeremy Kay glosses over the upcoming Venice and Toronto festivals, picking out some awards potential from the lineup. He begins by trumpeting the Best Actor chances of Mickey Rourke, rumoured to give a "standout performance" in Darren Aronofsky's surprise entry "The Wrestler," which I discussed yesterday. Elsewhere, however, Kay finds little to chew on in the lean American lineup:
The Venice lineup of US entries is skimpy this year because the writers strike in the first quarter slowed down production. As a result the studios are holding back some of their big guns until later in the year because otherwise, well, they wouldn't have much to get excited about come November and December. Mueller and his team previously announced that the Coen brothers' dark CIA comedy Burn After Reading will open the event and, while an Oscar win for a comedy is about as unlikely as a snowstorm in July, it would take a brave pundit to bet against Joel and Ethan, who won three statuettes for No Country For Old Men back in February.
Well, it's a theory. Meanwhile, I'm quite confident to bet against the Coens – the Academy rarely feels obliged to reward newly-crowned directors for their follow-up efforts. (Just ask any number of recent winners: Sam Mendes, Ron Howard, Peter Jackson, Ang Lee… ) And "Burn After Reading" doesn't exactly look like Oscar fodder. (Of course, neither, in a different way, did "No Country for Old Men." Who knows what these guys like anymore?)
Moving onto Toronto, Kay considers the prospects of last year's festival inclusion "The Visitor," adding his voice to the Richard Jenkins buzz, and then, with typical British partisanship, chooses to zero in on "The Duchess," a lavish Brit costume drama for which he believes Keira Knightley is a Best Actress frontrunner. That's news to me. Apparently, "Knightley will face stiff competition from Angelina Jolie, whose work as a traumatised mother in Clint Eastwood's period mystery "Changeling" mesmerised critics in Cannes."
Hmm, I think Kate Winslet, Meryl Streep, Melissa Leo and Sally Hawkins might have something to say about that. Seems rather early to boil the Best Actress race down to two ladies, but what do I know?
Kay concludes his piece with a roundup of upcoming films that he believes are "among the sturdier prospects." Pretty much the same titles you've heard a million times before, though he misses "The Curious Case of Benjamin Button" and includes "W," which makes me wonder if he's seen this.