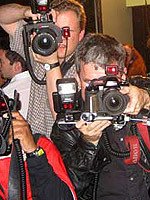 I've been mulling over this story all day, wondering where I stand, weighing the pros and cons of any legislation whatsoever that could be painted as First Amendment violation.  I've come to the conclusion that Los Angeles is incredibly inept at addressing serious concerns (traffic, a new spike in gang violence, managing tax dollars with an appropriate balance), let alone issues of such triviality.
Then the local news ran a package a few moments ago, and my brains is turning over the matter all over again.
In a nutshell, City Councilmember Dennis Zine proposed a "Personal Safety Law" in Februrary, essentially to afford a personal space of some sort for celebrities and a protection against paparazzi packs that tend to prohibit stars from entering or leaving medical facilities.  Today, a number of individuals testified on the matter, including actor Eric Roberts (spinning something about celebs naming their kids after fruits for a reason…or something) and singer John Mayer (proclaiming himself a "rock star" in the linked item, a stretch by my standards but so be it).
Being a former police sergeant, one would think Zine would understand the futility of the attempt, just as Chief Bill Bratton does.  Of course, the ever-colorful Bratton presents a carnival of ignorance when he proclaims at press conferences, "Stay home, it'd make our job a lot easier" (quoted from the news package, not the NY Times story).
The paparazzi issue has hit a new level of saturation in the Britney/Paris/Lindsay era, and we all recall that surfer pack throwdown on paps trying to snap shots of Matthew McConaughey.  The environment is ripe for such a legislation to recieve some fair attention, but…I don't know…it all seems like a giant waste of time and a distraction for an underpaid, understaffed police force that is challenged with the law and order of typicality as it is.
So what if a few paps suffer broken toes because they can't get the fuck out of the way when a star's SUV is plowing through?  So what if a group of paps get their asses kicked by sun-stained beach bras with nothing better to do but play out Darwin's law for our viewing pleasure?  No one wants to suffer through something like the Princess Diana trgedy again, but this is the life.
I spent a lot of my time writing about this Amy Winehouse breakdown or that while I was in London over the summer.  The issue of stars gone stupid isn't relegated to La-La Land.  And of course, the morons of celebrity are not the only ones hounded (poor Eric Roberts seems unable to handle the attention in the weeks since "The Dark Knight" landed).  But presenting legislation — vague, ill-advised and thin legislation at that…sigh.  At least the local news had something to cover this evening.
You tell me.  Am I out of line here?
(More coverage at the Los Angeles Times.)