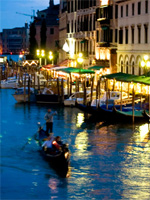 There are some major surprises in the competition lineup for next month's Venice Film Festival, not the least of which are the global flavour and soberness of the lineup itself. In previous years, the Lido has proved a launchpad for starry, surefire awards vehicles ("Atonement" and "Michael Clayton" both made successful bows there last year, while recent festival hits include "Far From Heaven," "The Queen" and Golden Lion winner "Brokeback Mountain.")
Looking down this year's list, it's difficult to find much that has quite the same cache – and the competition looks all the more intriguing for it. Artistic director Marco Mueller has commendably narrowed the English-language contingent, and has taken greater risks within that selection, most notably nabbing an unexpected "wet premiere" (as in straight from the lab) of Darren Aronofsky's latest, "The Wrestler."
The film, about a retired pro wrestler struggling to make a comeback, sounds like an interestingly low-key change of pace for Aronofsky after his beautiful folly "The Fountain" (another Venice debutante) fell foul of pretty much everyone two years ago. This project finds the former wunderkind working from someone else's screenplay for the first time, which could prove a healthy change, and there are some interesting changes of the guard elsewhere too – most notably swapping regular cinematographer Matthew Libatique for the exciting Maryse Alberti (continuing what might be a banner year for female DPs). With an almost too perfectly cast Mickey Rourke in the lead, and support from the ever-terrific Marisa Tomei and Evan Rachel Wood, a warm festival reception could put this on the Oscar charts.
There will be fewer megastars parading the Venice carpet than in previous years, but when one of them is Charlize Theron, how many do you need? Together with Kim Basinger, she will be at Venice to promote the competition title that, together with the new Miyazaki, I'm personally most excited about: Guillermo Arriaga's helming debut, "The Burning Plain."
Arriaga is directing his own original screenplay, which appears to be a typically layered affair visiting themes of childhood trauma and mother-daughter tensions. Frankly, it could be about anything and I'd be first in line: following his astonishing triptych of triptychs with Alejandro Gonzalez Inarittu ("Amores Perros," "21 Grams" and "Babel," for any cave-dwellers out there), not to mention the brilliant "The Three Burials of Melquiades Estrada," the man ranks with Charlie Kaufman as the most intriguing writer in American film, and I'm equally intrigued to see how he realises his own words. Theron, when her material matches her ability, is one of her generation's finest actors, and, on paper at least, I like the pairing of her with Basinger. If it all adds up, the Best Actress, Supporting Actress and Original Screenplay charts should make some room.
Two other US titles come from hit-and-miss talents who have long been off the boil: Kathryn Bigelow will bring her Iraq thriller "The Hurt Locker" with Ralph Fiennes and Guy Pearce (nice to see him around, eh?), while Jonathan Demme's black comedy "Rachel Getting Married" (an iffy title change from "Dancing With Shiva") stars Anne Hathaway, but more interestingly, returns Debra Winger to our screens. Neither appear to me as major awards threats, but their selections are an encouraging indication of a return to form for their respective directors.
Being an Oscar-focused site, it's necessary to spotlight the more mainstream selections, but the international lineup promises much. I mentioned in passing the return of Hayao Miyazaki: his festival entry "Ponyo on the Cliff" appears to be a return to the simpler structures and gentler themes of earlier films like "My Neighbour Totoro," but that doesn't reduce my anticipation one bit. Miyazaki won't be the only Japanese animation master in competition: Oshii Mamoru is bringing "The Sky Crawlers" to the party. Meanwhile, "Achilles and the Tortoise," a new comedy from revered (but recently rather off-form) auteur Takeshi Kitano, completes a very high profile for Japan at the Lido.
Not as high, however, as the host country: after Cannes 2008 announced a stunning revival for the Italian film industry, Venice is keeping the momentum going. No fewer than four Italian titles are in competition (Mueller reportedly had to bend the rules to allow for this), including new works from Marco Bechis, Pappi Corsicato, veteran Pupi Avati and Turkish-born Fernan Ozpetek. Based on recent form ("Ignorant Fairies" and particularly "Facing Windows" were both beautifully calibrated domestic dramas), I'm looking out for the latter's "A Perfect Day."
For all the potential of this lineup, however, the film that has me salivating more than anything else isn't even in competition. "Shirin" unites the talents of Abbas Kiarostami, one of the world's greatest living filmmakers, with those of Juliette Binoche, one of the world's greatest living actors. (I'm half-tempted to say the greatest in the latter case, but I won't go there.) Kiarostami's first feature since "Ten" in 2002, and his first non-Iranian project, tells the story of a brief Italian-set affair between a British writer and an art gallery owner (Binoche, who has become something of a workaholic lately). I've no idea why it's not in competition, but it's difficult to imagine that combination misfiring.
Famous last words, I know. But isn't that always the case at festivals?
(Check out more about the Venice selection in Screen Daily's feature here.)
Related Posts