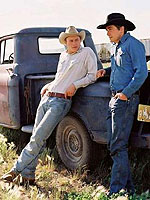 I have to admit, I got a chuckle out of Tom O'Neil's latest diatribe against the AMPAS.  Mainly, I just like to see him riled up, but he does have a point here.  Regarding the recent press release for the Academy's upcoming screening of "Brokeback Mountain," Tom had this to say:
Am I the only person who finds the headline of a recent Oscars news release outrageous? While announcing the latest film to be screened in its "Great to Be Nominated" series at the AMPAS headquarters in Beverly Hills, the news release proclaims "Academy Can't Quit 'Brokeback Mountain.'" That's a pathetic attempt of someone in the academy's media office to be cutesy-pootsy and it's offensive considering how cruelly academy members roughed up the gay cowboys two years ago.
To begin with, I don't think now, nor did I think nearly three years ago that the Academy "roughed up" the Ang Lee film that is clearly so beloved (I loved it too, so no hater-haters, please).  They certainly weren't beholden to honoring the film with their top prize just because of its impressive precursor streak, and indeed, more often than not, the AMPAS shows that it will not be told what to do on Oscar night.
I also am a supporter of the unfairly maligned "Crash, but I don't feel like going there.
That said, Tom has a point.  Let's face it, the "Great to Be Nominated" series is an insult on its face no matter what film is screening.  I know the Academy thinks it is doing a service to the films it ignored throughout the years, but mostly it's just digging away at wounds, some of them fresh, some of them scabbed over.
Anyway, more from Tom:
Now the academy says it "can't quit" "Brokeback Mountain." Oh, yeah? "Can't quit" is an intense romantic phrase from the film professing undying gay love. What the academy really gave "Brokeback Mountain" two years ago was the equivalent to a gay-bashing. After the "Crash" upset, scores of academy members confessed to me that they "just couldn't" vote for the gay film. Most of the academy members I spoke to admitted they didn't even watch their DVD screener….

Now if the academy really "can't quit" "Brokeback Mountain," why doesn't it go back and give it the top prize it deserved in 2005? By invoking that phrase, AMPAS only insults the film further while proving how really clueless it can be sometimes.
You can check out his full rant here.