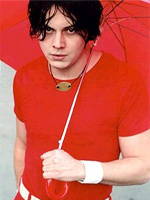 Well, I said I would remain guarded when the rumour mill stated that Duffy was "almost certain" to sing the long-discussed theme song for "Quantum of Solace." And rightly so. After a drawn-out process in which seemingly everyone in the pop universe but Michael Jackson was at one point in the running, the producers have finally announced their selection. And I, for one, did not see this coming.
Alicia Keys. And Jack White. Together.
Yep, in what will be the first ever duet in the 22-song history of Bond themes, the soul diva (who was, in fact, deemed the frontrunner for the gig a few weeks ago) and the blues-rocker will collaborate on "Another Way to Die." (Now wouldn't that have been a better title for the film?) The White Stripes and Raconteurs frontman is writing and producing the track, and will also – oddly – play drums. (Is Meg busy or something?)
Now I know this sounds hypocritical coming from me, since I pretty much slated Keys as a potential Bond chanteuse, but this pairing has me excited. Keys has a terrific voice; it's her bland songwriting of late that has bothered me. White's writing should hopefully push her into more dangerous musical territory, and the fusion of her lush throwback sound with his more elemental style sounds like a good fit for an old-school film franchise that's undergone a very contemporary makeover.
At the very least, the song should be interesting. (And I haven't said that about a Bond theme in some time.) And the team-up has the right balance of familiarity and critical cred to prove, potentially, rather Oscar- friendly. It'd be nice to have a Brit involved, but you can't have it all.
Smart choice, 007.