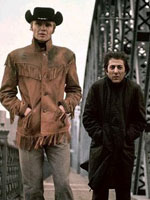 As much as I rant about some of the bizarre choices made by the Academy, let's be fair…there are times when they are right on the money.
The AMPAS allowed for an embracing of the New American cinema with their awards for Best Picture and Best Director for "Midnight Cowboy" in 1969, and only they had the courage (and the smarts) to recognize that "The Godfather Part II" was a superior film to the first in handing it the same two trophies. They had awarded "The Godfather" Best Picture two years earlier, but much of the precursor circuit (and all of the critics groups) largely ignored the sequel, opting instead for films such as "Alice Doesn't Live Here Anymore" and "Chinatown," among others.
The five awards betsowed on "One Flew Over the Cuckoo's Nest" in 1975 are among the group's best choices ever, in particular the honors for actor Jack Nicholson and director Milos Forman.
Though far too often dismissed as a chick flick, "Terms of Endearment" was a marvelous slice of life that the Academy embraced with five Oscars, including Best Picture, Best Actress, Best Supporting Actor and Best Director. By the way, is it not odd that first time winner James L. Brooks has never again been nominated in the directing category again, despite two Best Picture nominees in "Broadcast News" and "As Good As It Gets?"
I remember cheering loudly the many wins for "Amadeus," "Out of Africa" and "Platoon" three years in a row, and though I believe "Goodfellas" is a better film, I was pleased to see a western, "Dances with Wolves," win seven Oscars.
No arguments from me between 1991 and 1993, with "The Silence of the Lambs," "Unforgiven," and "Schindler's List" all most deserving winners. And though I prefer "Pulp Fiction," I understand why "Forrest Gump" took the top prize in 1994.
Bravo, too, to the Academy for honoring "The Lord of the Rings: The Return of the King," a bonafide movie masterpiece, and again the following year for "Million Dollar Baby."
So you see, for all my bitching (and we all do it…come on), I concede that the Academy does, from time to time, nail the best.