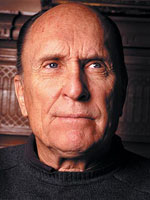 "There are two greats in America right now.  The first is Brando, whose best work is behind him, and the other is Robert Duvall."
Legendary acting guru Sanford Meisner said those words in the 1960s.  He trained Robert Duvall at the Nieghborhood Playhouse in the late 1950s and early 1960s before the actor's screen debut in "To Kill a Mockingbird" as the children's boogey man and savior Boo Radley. In the years since, Duvall has given some of the greatest performances captured on film, yet stands in his seventies now with just a single Oscar to his credit, a Best Actor trophy for his country and western singer in 1980's "Tender Mercies."
There are many, myself included, who consider Duvall the most purely gifted actor in American cinema.  He's always lacked the leading looks to harness the roles often awarded to other players. Instead he has toiled quietly yet effectively as a character actor, often playing second fiddle to bigger stars and stealing the film more often than not.
Even his quiet work in "The Godfather" and "The Godfather Part II" threatened to overshadow the leads, and look how the pathetic third film suffered without his presence? His performance in the modest "Tomorrow" is simply superb, while his supporting turns in "Network" and "The 7% Solution" were both critically acclaimed.
1978's "Apocalypse Now" never quite recovers from his sequence, when he says with a smile of regret, "Someday this war's gonna end," and strides off screen.  We understand in that moment the madness of Vietnam. His performance in the film might just be the greatest supporting performance in film history and was robbed of the Academy Award that ultimately went to Melvyn Douglas in "Being There," the year's sentimental choice.
It was about this time that Vincent Canby, writing in The New York Times, declared that Duvall was very likely the finest American actor, while the now defunct film journal American Film hailed him as the American Olivier (whatever that means). He responded with superb performances in "The Great Santini" and "True Confessions" before his journey to Oscar in "Tender Mercies."
As Augustus McCrae in the television mini-series "Lonesome Dove," Duvall found his favorite character to date.  He told me in 2000 that "the Brits can have their Hamlets and Macbeths, I've played Gus McCrae and can die happy."
I would say his performance as a ferocious preacher in "The Apostle" is easily among the five best performances of all time. Though the actor took home the Los Angeles Film Critics Association and National Society of Film Critics awards for Best Actor, the Oscar went to Jack Nicholson in "As Good As It Gets," a fine performance but hardly one for the ages.
In the years since his last brush with Oscar (1998's "A Civil Action"), Duvall has been seen in a variety of films, both leading and supporting roles, some succesful (such as his work on "Broken Trail," which won him an Emmy), some not (like his work in the sci-fi dud "The Sixth Day").  But his name being attached to a film brings some excitement, the sense that there is potentially something very special about the picture. You can bet that many actors have signed on to projects because Robert Duvall was on board.
And of course, Duvall and Kevin Costner were tremendous together in "Open Range" in 2003, a fine western in which Duvall gave one of his best performances as a tough old rancher who will not be trifled with. He seemed to bring out the best in Costner, who was very effective as a gunslinger haunted by his past.
Costner himself has said that Duvall takes everything up a notch, causing other actors to be on their toes at all times. Known to be brutal with directors who tried to tell him how to do a role, Duvall truly liked Costner and his style.
I was fortunate enough to meet Duvall during his run of success with "The Apostle" and spent some time on set with him while he was making "John Q."  It was a treat to see him work.  The air was electric the moment he came on set, and when Nick Cassavettes called "action," the air seemed hotter. Sure the film was nothing special, but Duvall is real, authentic in every scene he is in, and to me that is great acting: that endless, never ceasing search for what is truth and what is real.
I know there are those who would say Robert Duvall has had his fair share of awards success, but I would say he has been ignored far too often.  And when a truly great performance is ignored, doesn't that effect us all?  Go back through Duvall's filmography and see why he's the greatest film actor the screen has known.