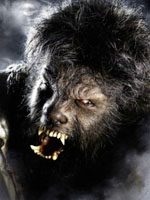 Capone of Ain't It Cool News cornered makeup effects artist Rick Baker at Comic-Con yesterday to discuss the upcoming Benicio Del Toro starrer "The Wolf Man." It's a dream project for the prosthetics wizard behind films such as "The Nutty Professor," "Dr. Suess' How the Grinch Stole Christmas" and "Planet of the Apes" and Capone got some solid quotes out of the guy.
Like this bit about how Baker seems to have felt somewhat slighted on the set by those who, in a nutshell, don't understand that he's the shit:
…it was sometimes strange how I was treated…sometimes they would shoot scenes using my work when I wasn't even there…Other times when I was there if I try to look at the monitor, someone would literally stand in my way and block it. On other films, I'm usually right there side by side with the director at the monitor. It was strange…Maybe I'm just getting too old to do this anymore. I mean, I love making these movies, but if it's going to be like this from now on…
And this aside regarding the return of practical effects as a staple for filmmakers shunning the abuse of CGI:
I think CGI absolutely has a place in filmmaking. I dabble in it myself; I like creating shit. But when I sought out this job, I actually did a makeup test on myself, just put the applications on my face and videotaped it and sent it in… It certainly easier to get better performances from the actors using more practical effects. If they're supposed to be looking at some awesome landscape or some other kind of environment, and all they're seeing is green screen, you notice the change in the acting, like with the last three STAR WARS films.
It's a solid interview well worth the read.  This is, after all, the guy who put the Best Makeup Oscar on the map when the award was created specially for his work in "An American Werewolf in London."  Personally, seven years later, I'm still shocked he was snubbed for his work in "Planet of the Apes."
And if "The Wolf Man" is a dream job for him, you better believe it'll be a dream movie for fans of his handiwork.  Suffice it to say, 2009 has a bona fide contender for Best Makeup waiting in the wings.