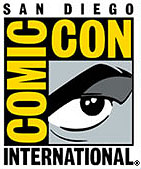 I'm heading out the door to hit the Wrath of the Con party tonight, but before I go, I thought I'd link out to the news items worth reading from Comic-Con this weekend.
At Cinematical, Elisabeth Rappe writes up the "Wolf Man" panel, which included the revelation of the film's first trailer.  She also calls Marvel's new animated film "Wolverine vs. Hulk" a "blast."
At The Movie Blog, John Campea kicks back with the ladies of "Bitch Slap" (who've certainly made the rounds) for an interview at the Marriott.  There's also some nice video of Entertainment Weekly's Visionaries panel including Frank Miller, Kevin Smith, Zack Snyder and Judd Apatow.  Strange collective.
At io9, Charlie Anders writes up the footage-less "Lost" panel with some video tossed in for good measure.
At Screen Rant, Vic Holtreman live blogs the "Terminator Salvation" panel.
At /Film, Peter Sciretta passes on Zack Snyder's revelation during the "Watchmen" panel that the director would be interested in a "Dark Knight Returns" movie.  Who wouldn't?  There is also the exciting news that Jonathan Nolan was confirmed as the lead writer on "Terminator Salvation" by McG himself.
That should be plenty to chew on.  I'm outta here.