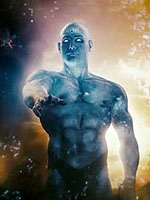 Variety's Anne Thompson is hitting the turf as always, this time down in San Diego for the annual Comic-Con International.
She snagged "Watchmen" director Zack Snyder for some quick dishing prior to today's Warner Bros. panel in Hall H (probably the most anticipated panel of the weekend).  She pressed Snyder about running time concerns, content issues and what seems to be an ambivalence on the part of the studio to give this prestige product the breathing space it deserves.
Here's the bit about running time:
Zack Snyder is currently battling with Warners over the ultimate running time of the movie, which is three hours. He's trying to cut it down, but doesn't want to lose a character like Hollis, [SPOILER OMITTED]. ""I'm not ready for that yet. If Dark Knight got two and a half hours, Watchmen should get fifteen minutes more," he pleads. "I'm trying to be reasonable."
And on content concerns:
But the studio still thinks Watchmen is too "too long, too sexy, and too violent," says Snyder. For him, "that's a reason to go. That's the why. If you take that out you take out the why." Otherwise it'll just be another "watered down version of Watchmen, and then you might as well make another superhero movie. There's a million characters out there you could do instead."
I think it has been rather clear from the start that Snyder has been aware of the importance of a project like this in the eyes of the fans.  I first crossed paths with him at last year's Con, and the guy has a solid head on his shoulders.  He understands both the burden and the potential of the adaptation and, what's more, he keeps a light skip in his step about it all.  He knows…he just seems to be saying, "Look, get out of my way and I'll do this thing justice."
Anyway, it's a really solid interview from Thompson.  There's plenty to chew on, from costume designs on the film to the maturation of comic books.  Give it a read here.