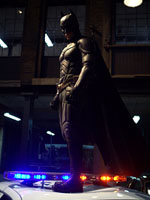 The first I heard of this Andrew Klavan op-ed in today's Wall Street Journal was over at Awards Daily. I blew off the pathetic stretch for a parallel between Christopher Nolan's "The Dark Knight" and the disastrous administration of George W. Bush as just that, pathetic. This is, after all, the author of such seminally vacant thrillers as "True Crime" and "Don't Say a Word" we're talking about.
Then I noticed Rupert Murdoch pop up on Keith Olbermann's list of the "worst people in the world" in response to the mogul's paper publishing the piece this week, and I figured I would give it a closer look.
Good GOD what moronic copy. A taste of the absurdity:
…like W, Batman understands that there is no moral equivalence between a free society — in which people sometimes make the wrong choices — and a criminal sect bent on destruction. The former must be cherished even in its moments of folly; the latter must be hounded to the gates of Hell.

"The Dark Knight," then, is a conservative movie about the war on terror. And like another such film, last year's "300," "The Dark Knight" is making a fortune depicting the values and necessities that the Bush administration cannot seem to articulate for beans.
That's right, he brings up the old (and equally stupid) "'300' is an allegory for the Bush administration" stand-by from over a year ago.
Oh, you want some more? By all means:
The moment filmmakers take on the problem of Islamic terrorism in realistic films, suddenly those values vanish. The good guys become indistinguishable from the bad guys, and we end up denigrating the very heroes who defend us. Why should this be?

The answers to these questions seem to me to be embedded in the story of "The Dark Knight" itself: Doing what's right is hard, and speaking the truth is dangerous. Many have been abhorred for it, some killed, one crucified.
Alright, dear readers. Shake it off. I know the sheer ignorance is both deafening and infuriating. The sad thing is, Klavan has a thesis worth exploring in there somewhere. That it is buried in this partisan hogwash and sublimely inadequate reasoning within such a staunchly pro-conservative view point ironically reflects the very direct approach of liberal-minded filmmaking he's apparently railing against. But you already knew that. You're smarter than this…guy.
Oh, but don't blink, or you'll miss Klaven stumble right past the entire point of "The Dark Knight" on the way to missing it completely, and manipulating it to his own ends:
As Gary Oldman's Commissioner Gordon says of the hated and hunted Batman, "He has to run away — because we have to chase him." That's real moral complexity. And when our artistic community is ready to show that sometimes men must kill in order to preserve life; that sometimes they must violate their values in order to maintain those values…then and only then will we be able to pay President Bush his due and make good and true films about the war on terror.
Wow, right? Then there's this blurb at the bottom of the page:
Mr. Klavan has won two Edgar Awards from the Mystery Writers of America. His new novel, "Empire of Lies" (An Otto Penzler Book, Harcourt), is about an ordinary man confronting the war on terror.
Can't wait to see how morally complex that piece of shit will be. Now, I need to go to out to the driveway and grab my sun-faded copy of the Journal so that I can burn it properly.
(Mr. Nolan — if you happen to be reading this — I implore you to rebut this nonsense in your own op-ed.)