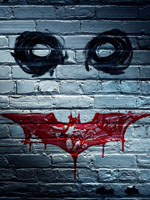 "The Dark Knight" raked in $20 million on Tuesday, breezing past "Pirates of the Carribean: Dead Man's Chest" to claim the record for fastest to $200 million.  By the way, it destroyed the previous number by three days.
Sitting at $203 million at the end of Tuesday, the film also seized the 5-day opening record.  The 6- and 7-day records already fell with that number, while 8, 9 and 10 will assuredly follow.
The fastest to $300 million title will also fall over the weekend, probably on Saturday, and by a margin of nearly half the previous holder.  $400 million (and the record for fastest to that mark) is obviously within grasp by the time the summer rolls to a close, and after that, who knows?  $500 million?  Probably.
And by the end of its run, "The Dark Knight" will likely be the #2 domestic grossing film of all time.
Wow.