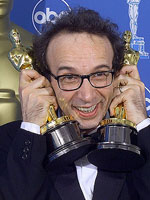 With the Bat frenzy settling down, and the Toronto Fest looming just ahead, I thought I'd get back to, well, complaining about the Academy's more lame-brained calls over the years!
What has been the group's single worst choice for Best Actor in its 80 year history?  My choice: Roberto Benigni for "Life is Beautiful" in 1998.
I remember sitting stunned when his name was called out at the Screen Actors Guild awards for his incessant, mugging in the film, possibly the most over-praised endeavor of 1998. What this meant of course was that he now had the inside track to win the Academy Award for Best Actor for this ridiculous performance.
And he did just that, clowning around, jumping up on the seats of those around him, massacring the English language (which he speaks perfectly fine) with his acceptance speech, trying his best to be endearing and beloved.
How and why did this performance — and this film — become so beloved by the AMPAS?
Among the performances Benigni defeated that year were Edward Norton's seething work in "American History X," Tom Hanks's superb turn in "Saving Private Ryan" and Nick Nolte's raging performance in "Affliction." Each performance was vastly superior to Begnini's, and as always, some of those not nominated could have easily taken his place.  Jim Carrey in "The Truman Show" comes to mind.
Hollywood, however, fell in love with Mr. Begnini as he cruised through cocktail party after cocktail party, dinner at Barbara Streisand's house, the entire town entranced by a brown-eyed clown.
His performance was little more than over the top shameless mugging for the camera — "acting" at its worst. For that he gets an Oscar, along with nominations for Best Director and a win for Best Foreign Language Film??
There have been terrible Oscar wins in the past, of course: "The Greatest Show on Earth," Elizabeth Taylor for "Butterfield 8," Al Pacino in "Scent of a Woman.  But has the Academy ever been so incredibly bamboozled by a film and a performer as they were in 1998?
What about you?  What do you think is the Academy's all time worst choice for Best Actor?  Or Best Foreign Language Film for that matter?