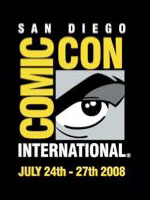 If you anticipate any sort of Comic-Con coverage fatigue in the next few days, I'd like to point you to our friends John Campea and Doug Nagy over at The Movie Blog.
The boys say they're going to be covering the festivities from an on-the-ground perspective, rather than flooding the readership with "boring Round Table interviews and that sort of stuff that every other website on the planet is going to be covering the exact same thing on." Video journals, audio podcasts, plenty of images and video from the Con, etc.
It'll definitely be the first place I'll be checking every day for news a views out of the festivities.