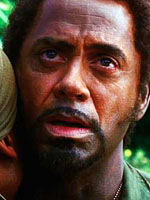 In a review of Ben Stiller's "Tropic Thunder" this afternoon, Jeffrey Wells has brought the "O" word into the conversation, specifically for Robert Downey Jr.'s performance as an actor who undergoes a pigmentation makeover to play an African American in the Vietnam film-within-the-film.
Here's what he has to say:
It also feels to me like an Oscar-level thing for Downey. I know — who gives a hoot about Oscar nominations when a film is this funny? But Downey is amazing in this. This plus Iron Man — what a year for the guy. The Best Supporting Actor race is already down to Downey vs. Ledger.
Obviously he forgets that Downey still has a role as Los Angeles Times columnist Steve Lopez in Joe Wright's "The Soloist," due out later this year, which, judging by the subject matter and the fact that you've got the same studio pushing that film for awards fodder, may turn out to be his best shot at Academy recognition.
Of course, we've been calling it the year of Downey Jr. around these parts for a few months now.  Not that it isn't the most obvious aspect of the season.  And indeed, it is the story of the year.  Such a rise from the depths and into the spotlight as a star with impact yet again.
I'm really looking forward to "Tropic Thunder," as well as "The Soloist," for that matter.  And I'd be lying if I didn't say it had a lot to do with Downey Jr.