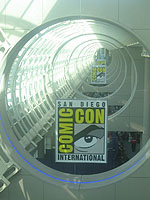 Tomorrow night, the entertainment press will descend upon San Diego for preview night at this year's annual Comic-Con International. My feelings on this glut-fest are well documented, but even with that in mind, there is simply little to pique my interest as a comic fan.
Friday's Warner Bros. panel may have some interesting additives for "Watchmen" (which already launched a trailer last week) and "Terminator: Salvation" (ditto).
Lionsgate's "Spirit" presentation can't possibly offer much more than we've already seen in a blanket advertising campaign. And Frank Miller doesn't exactly dig the festivities in any case.
Fox's Thursday presentation offers nothing worth a second glance (though I have an odd interest in "Max Payne"), while Saturday's offering of a "Pineapple Express" panel is evidence of the Con's loss of perspective. Not that I'm not interested in the film, mind you, but the studios sank their fangs into the demographic by pushing anything passably Con-worthy on the event years ago, increasingly sucking it dry of life. It all makes me sad.
But there's nothing wrong with a giant room full of comics and action figures, not to mention Lou Ferrigno peddling photos for $20 a pop!
There will be a "Tropic Thunder" screening tomorrow night, while the aforementioned "Pineapple Express" will go before a few critics and journos as well. Be on the look-out for knee-jerk reactions.
For me, the parties have become the only reason to bother with the convention in recent years. With that in mind, I'll be heading down Saturday for the Wrath of Con shin-dig — the party of the week. Maybe I'll corner David Goyer and settle this Two-Face thing once and for all.