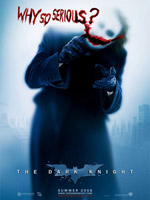 I was just talking with someone who went to see "The Dark Knight" at a noon IMAX show today and was met with a sold out crowd. So I'm wondering, what will the Monday gross turn out to be, and how many more records are left for the Bat to claim?
The 4-day total is obviously going to fall. "Spider-Man 3" raked in $10.2 million on the Monday following release on the way to a $161.4 million 4-day.
"Star Wars: Episode III — Revenge of the Sith," meanwhile, holds the 5-day record with $172.8 million. If "Knight" even matches Spidey's Monday number (and it's probably safe to say it'll zip past it), that will already put the film within $4 million of the 5-day title.
I'm not a whiz with box office research, but I don't remember the last time a Friday release claimed the 5-day total. The top 10 on that front is littered with Wednesday releases.
It'll be interesting to see how the rest of the world responds to the hoopla and, of course, the specter of Heath Ledger. Personally, I'd love to see the film threaten a billion bucks worldwide, but with a mere $166 million outside the States for "Batman Begins," that's obviously a long shot.
It'll also be interesting to see what film takes the opening weekend crown from "The Dark Knight." Looking on the horizon, I can't even see a pretender to that throne.
"Transformers: Revenge of the Fallen?" Doubtful. The opening for the original wasn't as big as many anticipated and nothing about that film's quality would suggest a rush to the box offices for part two.
"Terminator: Salvation?" Maybe. But that would take some marketing razzle-dazzle to say the least.
No, it may take a second "Iron Man," a fourth "Shrek" or a third "Toy Story" to even come close. ut we're surprised each and every year, so let's just sit back and enjoy the ride.