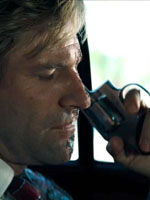 BIG "DARK KNIGHT" SPOILERS ON THE WAY!
You've been warned…
I just listened to this interview with "The Dark Knight" screenwriter Jonathan Nolan, conducted by Creative Screenwriting's Jeff Goldsmith.  In it, Nolan vaguely confirms what I've been railing against all weekend: the fact that Harvey Dent is dead at the end of the film.
It's maybe a third of the way through the interview.  And it's covered in ambiguity.  But he doesn't come out and agree with the way Jeff poses the question, per se.
Alright…as I said, I've been of the mind that this "death" has been far too weak to hold.  But if indeed it does, let me get this straight.  You kill off — in an entirely ambiguous way — the most important foil dynamic of the franchise aside from the Joker?  This is impotent.  This is foolhardy.  This doesn't work, and in part, it forces me to completely rethink my view of the film.
I don't believe it is unnecessary to do away with the character.  I don't think he needed to have his own free reign as a major villain in some other film.  I'm fine with utilizing Dent as a device to carry across the themes of this film and moving on.  But not in the last 30 fucking minutes of the flick; not cramming one of the most unique and complex Bat villains into a screen time that really pillages the potential.
If…IF……well then, I'll need to mull that over for a bit.