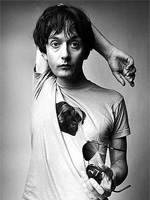 Sorry for another music-related post, but this is surely too awesome to actually be true. Word is out that Jarvis Cocker is writing music for Wes Anderson's upcoming adaptation of Roald Dahl's "Fantastic Mr Fox."
The former Pulp frontman, responsible for pretty much the greatest, wittiest, most perceptive and socially on-the-button song of the 90's, has written "three, four songs and some that might become bits of the score" for the film.
Cocker has good form with soundtracks, having worked on "Harry Potter and the Goblet of Fire" and Alfonso Cuaron's underrated "Great Expectations." (Remember the gorgeous Pulp-Patrick Doyle collaboration "Like a Friend," anyone?) What could be cooler?
(Answer: maybe everything about Spike Jonze's "Where the Wild Things Are," which has the equally tantalising musical possibility of Karen O involved. Who wouldn't want to see those two duelling it out for Best Original Song at the Oscars? Not that that would ever happen – not least because it seems we may never see Jonze's much-discussed fantasia at all. So much for my most anticipated title of 2009.)
But I digress. With Cocker joining a team that already includes George Clooney, Cate Blanchett and Bill Murray lending their vocal talents to the project, Noah Baumbach on the screenplay, and Alex McDowell, no less, on production design duty, "Fantastic Mr Fox" seems to have everything going for it. This could well be the first Wes Anderson film that I actually love.
2009's Best Animated Feature race is starting to look a lot more fun than this year's.