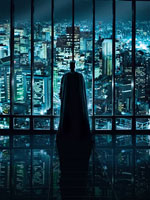 At least that's what Warner Bros. sources are telling Nikki Finke (who stays up around the clock, presumably cramming down Cheetos and Cokes, waiting on people to tell her what to write…as always).
Of course, as she indicates, the film failed to best the $53.3 million Saturday record that "Spider-Man 3" currently holds, but second place ain't bad on that count. HOWEVER…
Finke's sources also tell her that the film's estimated total North American 3-day haul "looks to be $153M-$155M." Gee…that sounds kinda familiar, doesn't it?
We'll of course hold off on crapping ourselves until someone speaks up who doesn't blow with the winds of studio muscled change. But I expect the figures should be close to these.