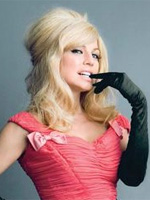 Ugh, they had to ruin it, didn't they?
Yes, apparently the woman whose most significant artistic achievement thus far has been introducing the term "lady lumps" to the popular vocabulary is joining the most star-spangled cast in recent memory. She will play the prostitute from the Day-Lewis character's youth, who was responsible for his sexual initiation. The mind reels. (Actually doesn't sound like too much of a stretch for her, but we'll still have to listen to her sing.)
I like the sound of this project, and Rob Marshall pulled off some offbeat casting ideas in "Chicago," so I'll give them the benefit of the doubt here. But seriously, was no other actress available?