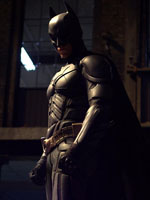 Watching "The Dark Knight" — a two-and-a-half-hour dense piece of textured, cinematic professionalism — twice in the same 24-hour stretch with only two hours' worth of sleep in your tank I thought I was gonna fall out at the 9:30 last night.
The film holds up, though like any film packed with such ambition, there are some scars that poke through once you know what is coming. I've decided my issues with length have little to do with the length and everything to do with the structure of what was clearly a complicated, but necessary, string of events.
And of course, Ledger's performance settles in more and more, proving to be, probably, one of the most controlled portrayals I think I've ever seen. Watch his eyes in the mafia meeting.
Gamble: "You're crazy."
Joker: "I'm not. No…I'm not."
Chilling.
Meanwhile, the debate rages for me and my friends. But I don't want to spoil it here, so see my comment in the geek review.