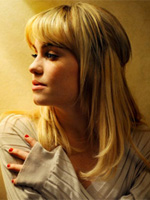 The Independent says we do… and it's Duffy.
I wrote last week about the seemingly endless parade of names that had been tipped to sing the theme for "Quantum of Solace," which had most recently stopped at Alicia Keys. Now a "reliable mole" at Pinewood Studios says the 22 year-old Welsh soul revivalist is "almost certain" to be handed the gig.
There have been so many rumours about this over the months that I remain guarded, but the bookies are certainly believing this one – Ladbrokes have slashed Duffy's odds to even money. (Yes, the Brits bet on everything.)
If so, I have no complaints about the choice. "Mercy" is a pretty fantastic pop record, and I wouldn't mind if the "Quantum of Solace" theme turned out sounding something like it, with a few added strings, perhaps. (I only hope they aren't planning to work that godawful title into the song.)
I've already said I'd have preferred Amy Winehouse, but that was clearly not happening. Meanwhile, Duffy, with her throwback Springfield-esque voice, button-cute blonde looks and squeaky clean personal image, is essentially the Winehouse you can take home to mom. She's a hot property right now – her (rather good) album "Rockferry" is the biggest seller of 2008 in the UK so far, and it's gone gold Stateside too. It's not hard to see why she would appeal to the 007 producers.
Not betting the house on this yet, though.