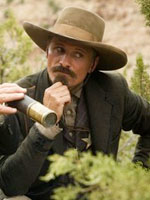 More announcements out of the press office from Toronto today.
Great to hear that the first of the potential Oscar films is coming, Ed Harris's "Appaloosa," with Viggo Mortensen, Renee Zellweger and Harris starring. Harris's last directorial effort "Pollock" opened here and went all the way to Oscar night, winning Best Supporting Actress for Marcia Gay Harden.
Jonathan Demme returns with "Rachel Getting Married" featuring Anne Hathaway as a crisis-prone sister returning home for her sister's wedding bringing her acid tongue with her to unleash hell.
From England comes "The Other Man" from director Richard Eyre.  Liam Neeson stars as a husband who discovers his wife (played by Laura Linney) has been receiving emails and messages from another man, portrayed by Antonio Banderas. Enraged and deeply hurt that she would violate the trust he thought they had, he seeks out an encounter with the man.
The titles have started emerging and we're look forward to more in the coming weeks. Festival fever is starting!