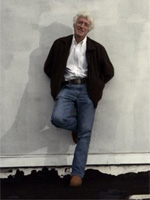 OK, it seems to have been around for a few years, so a lot of you are probably aware of it already, but I've only just discovered the great Roger Deakins' website.
It's a pretty bare-bones affair, but there's some fascinating stuff on it nonetheless. I for one am gobsmacked at how this prolific man, between shooting some of the most significant films of the past few years, somehow finds time to answer so many queries in the forums section. You have to wade through a lot of drivel there, as does Deakins – there are a depressing number of people out there who see fit to ask one of the most gifted DPs alive such probing gems as, 'How is Leo and Kate's acting in "Revolutionary Road?"' (Only without the correct spelling and capitalisation.)
Dig around, however, and there's a wealth of technical information and insight for fans and filmmakers alike. As if that weren't enough, he's posted some of his lighting diagrams too, including ones for "No Country for Old Men" and "The Man Who Wasn't There."
Finally, for those who can't get enough pretty pictures, he's put up some of his photography work too. (I'd pay good money for a print of that "Rain Begins" shot.) The man's a true artist.