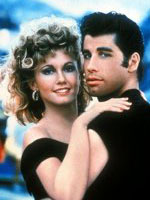 So The Times has followed up last week's collective assessment of the 20 greatest movie endings of all time today with a list of the worst, and there are some reasonable choices here and there.
Like "Grease" for starters, probably my favorite movie musical but with an undeniably wretched denouement. And then there's the cheeky mirror of the "Planet of the Apes" saga (the original made the best list, while Tim Burton's remake lands here), not to mention "Indiana Jones and the Kingdom of the Crystal Skull," which would definitely be near the top of my own list (ballsy to go so recent, too).
I also like the shout out to the never ending ending of "The Lord of the Ring: The Return of the King."
But beyond those and perhaps a few others, the rest of the list is populated with terrible choices (many of which landed on my own best list). "There Will Be Blood" (which was deemed the #2 film of all time by The Times' film critic James Christopher)? "Psycho?" "2001?" Fucking "Citizen Kane" at #1???
Lots of eyebrow raisers. And from what I can gather, merely an attempt at being controversial.
Their choices:
1. "Citizen Kane"
2. "Indiana Jones and the Kingdom of the Crystal Skull"
3. "The Lord of the Rings: The Return of the King"
4. "2001: A Space Odyssey"
5. "The Maltese Falcon"
6. "Grease"
7. "Brief Encounter"
8. "The Great Dictator"
9. "Saving Private Ryan"
10. "The Great Escape"
11. "Apocalypse Now"
12. "Psycho"
13. "There Will Be Blood"
14. "Magnolia"
15. "Blade Runner" (original release)
16. "Monty Python and the Holy Grail"
17. "Star Wars – Episode VI: Return of the Jedi"
18. "Planet of the Apes" (2001)
19. "Cast Away" (totally disagree here…I think it's a beautiful ending)
20. "Velvet Goldmine"