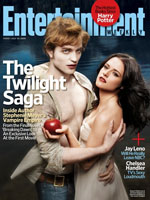 Seriously. Cover of Entertainment Weekly? Apparently breaking records in terms of trailer hits? What?
I pride myself in being in the know with pop culture, but I've been oblivious to this series and soon-to-be adaptation until a few weeks ago. Is it really going to be the monster hit the rags are making it sound like?
For once, I'm totally in the dark, dear readers. I'll be picking up a copy from the local Burbank library this evening to see what all the fuss is about (naturally, the children's bookstore I work in is sold out).
I mostly just want to know if I should expect a return to form for Catherine Hardwicke, who I thought made a very promising debut with "Thirteen," a very interesting follow-up with "Lords of Dogtown," and then one of the worst movies I've ever had to sit through: "The Nativity Story". She seems keen on telling stories about teens and their trials and tribulations, I'll give her that.
Anyone care to illuminate me? Is this really the next "Harry Potter?" Is Catherine Hardwicke going to live up to the promising start she had or continue to fizzle out in boring work-for-hire productions? Are the books even worth my time?